WHAT IS SUPER BLUE GREEN ™ALGAE (SBGA) ?



The algae is the oldest living multi celled organism found on the Planet. It dates to about 3.5 billion (not million) years ago and it is at the base of our food chain. It is one of the highest known sources of chlorophyll on the Earth, providing 90 % of all the oxygen we breathe. It is 1,500 times more efficient than the next fastest oxygen generating plant. Chlorophyll is one of the best known blood purifiers. It contains almost all the vitamins (except for D and K), minerals, amino acids and other vital nutrients. SBGA is also one of the highest known sources of beta carotene, free radical scavenger.

SBGA is harvested from Upper Klamath Lake in Oregon, where volcanic eruption created about 7,000 years ago perfect and natural ecosystem. Crystal clear waters form the "Rivers of Light" are feeding the lake covering some 30 feet deep deposit of volcanic ash full of minerals and trace metals. There is no man made additive added to this wild and 100 % natural and organic food which is almost perfect immune system booster.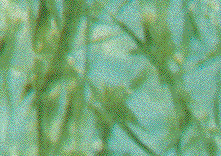 Magnified 10 X

GO BACK TO THE HOME PAGE